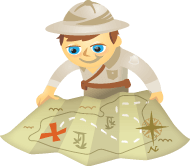 Do you want a highly effective Facebook page?
Do you know which elements make up a good Facebook page?
While there are an unlimited number of strategic factors that can contribute to the success of a Facebook page, many share common elements.
In this article you'll discover the six elements of successful Facebook pages and how you can improve your Facebook page.
#1: Add a Clear Cover Photo
When Facebook users land on your page, you want them to figure out who you are and what you do in about 3 seconds. That's why a good cover photo is important.
Here's a good example from Coca-Cola.