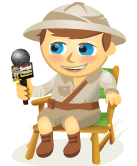 In this video I interview Bernardo Huberman, director of the Social Computing Research Group at HP Labs and author of The Laws of the Web: Patterns in the Ecology of Information.
Bernardo shares why HP is studying social media as portal to understanding their customers and consumers. You'll discover how HP is able to predict sales weeks before a product is released thanks to social media research.
Be sure to check out the takeaways below after you watch the video.