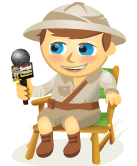 In this video I interview Mark Schaefer, author of the Return on Influence and The Tao of Twitter.  Mark is also an MBA teacher at Rutgers University.
Mark shares how social media influence impacts businesses today. You'll learn how businesses are using social scoring platforms to engage with their audiences, and how to improve your influence.
Be sure to check out the takeaways below after you watch the video.