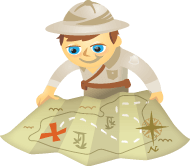 Do you spend a lot of time writing blog posts and creating social media content?
Ever feel like you don't have enough time to focus on both?
The solution is simple: repurpose your blog content by using it in new ways on social media.
In this article I'll share how to repurpose blog content for social media platforms.
Why Repurpose Content?
Content repurposing can help you "be everywhere," since it can be distributed in different forms on multiple social media sites. It also helps you reach people who would not consume the content in its original form.