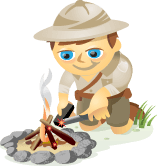 Are you looking for creative ways to engage your Facebook fans?
Do you need some fresh ways to infuse fun into the Facebook experience?
This article will examine nine Facebook pages that bring excitement to their Facebook pages.
My hope is you'll find inspiration for your own page.
NOTE: Many of these Facebook apps are developed by a third party and have a standard look and functionality. Other Facebook apps can be used to create a custom tab, but can have some limitations on how the tab looks.
#1: Seasons 52: "Mini Indulgence" Quiz
Seasons 52 is a restaurant chain with signature desserts called the "Mini Indulgence." The restaurant has developed an interactive quiz that asks you questions to determine "which Mini Indulgence dessert is you?"
The reason this works is because it asks personal questions about things you like to do and "matches" those things with the type of dessert. Yes it's kind of silly, but people love quizzes about themselves.