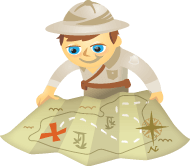 Your customers and prospects are using smart phones.
Have you figured out how to connect with them using mobile social media marketing techniques?
Mobile is not as difficult as it may seem, especially when you access it with the social media tools you're already familiar with.
With that in mind, I'll reveal 5 ways you can use social media to integrate mobile marketing into your business.
#1: Connect With Prospects On LinkedIn Mobile
The LinkedIn mobile app brings a streamlined version of the desktop site to your smartphone or other mobile device. You'll have access to all the key LinkedIn features, including updates, your profile, messages and groups.
From your LinkedIn home page, tap on your profile photo to access your profile screen to see who has viewed your profile recently. If someone has viewed your profile, it's a good indication that they might be interested in hearing from you.
With the mobile app, you can reach out to them from your phone or tablet. Just tap on their profile photo and say hello to them via LinkedIn.