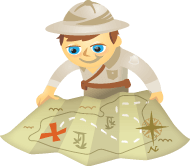 Are you wondering how to use QR codes to enhance your marketing?
Keep reading to learn some tips for implementing 5 essential steps.
Why QR codes?
QR and other two-dimensional (2D) codes can be readily integrated into your current business marketing practices to bring your online content to a mobile audience in real time.
Here's a cool video that gives you an intro to QR codes.
In North America, QR and 2D codes are still a novelty. For this reason, early adopters are eagerly putting them into practice to get to market first and capitalize on the trend. As a result, some embarrassing and costly mistakes are being made.
This article will help you learn from those mistakes and develop best practices for creating a favorable user experience that serves both you and your community well.
If you need a refresher on the basics of QR, this comprehensive article will give practical information on how QR codes can grow your business.