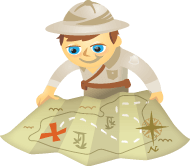 Are you looking to leverage the popularity of QR (Quick Response) codes with the wide-spread adoption of Facebook?
Over the past several months, QR codes have inserted themselves squarely into digital media conversation (even appearing on late-night TV).
In this article, I'll unpack how to get your QR codes to go viral on Facebook.
I'll start by walking you through the process and an example campaign, and conclude with an analytical discussion examining five need-to-know success factors.
Setting Up a Viral QR Code Campaign
Step #1: Generating the QR code
For the uninitiated, QR codes provide a means to open a URL on a mobile phone.
However, a closer look reveals that most QR code generators provide functionality for executing a host of mobile phone actions, including creating a calendar event, sending an SMS or providing contact information.