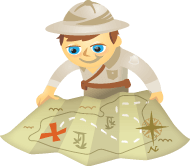 Great blog posts don't magically engage readers. But by applying a few good tactics, your blog can attract and retain your ideal readers.
Here are seven powerful blog posting habits:
Tip #1: Clear Targeting
The first rule for creating effective content for your business blog is to completely understand why you're blogging. Have a thorough understanding of your ideal reader's (your customer's) profile and of your core message as it relates to your business. If you have a really clear idea about who you're writing for, it's going to be easier to write. Your blog posts will be on target and on purpose. You won't be meandering off into subjects that are irrelevant to your audience.