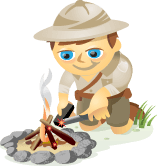 Do you share your expertise online?
Have you heard about Google Helpouts?
Imagine having the ability to generate leads and make money with your existing expertise, but on Google's dime.
In this article, I explore Google Helpouts and how you can take advantage of this emerging tool to position yourself as an expert.
What Are Google Helpouts?
Google has taken their incredibly popular Hangouts technology and wrapped it in a shell that opens a whole new service channel for small business owners and consultants.
Back in November 2013, Google quietly rolled out Helpouts. This is a new marketplace to connect people who need help with those who can provide assistance, over live video.