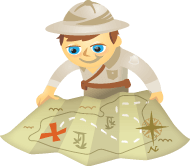 Do you use Pinterest for your business?
Have you heard about Pinterest Rich Pins and how they can help your marketing?
In today's post, I'll show you how businesses can get more from Pinterest Rich Pins.
Get to Know the New Pins
Pinterest is continuously expanding their functionality for businesses, from creating business accounts to marketing materials to help businesses get more from Pinterest.
The latest additions to Pinterest are the introduction of rich pins to include more information about pinned images and the integration of the Pin It button with mobile apps.
There are three types of pins that now allow you to share more information: products, recipes, and movies. The additional information for pins in these categories is provided by specific websites.
For example, major brands whose product pins have extended information include Anthropologie, Home Depot, Nordstrom, Overstock, REI, Sephora, Sony, Target and Walmart.
The difference between an enhanced (Rich) product pin and a regular pin of a product is the enhanced pin shows current pricing details and has a direct link to the product page. Regular pins require the user to enter the price (which can only be updated by the user) and the link only pops up when someone hovers over the image.