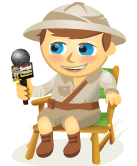 In this video I interview Ramon De Leon, the managing partner of six Domino's Pizza franchises in Chicago. As you can imagine, this is a very competitive market. But Ramon uses some unique social media marketing tactics that make the difference.
Ramon shares these marketing tips and shows businesses how to use social media to attract local customers and turn them into raving fans.
Be sure to check out the takeaways below after you watch the video.