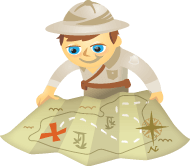 Would you like to find out when your social media followers are most active?
Do you want to know which social network drives the most leads to your website?
There are many social media statistics you can track, but it's important to track the data specific to your business's use of social media.
Track the right metrics for your community and you'll better understand how and when to share information, as well as what type of content drives the most traffic to your website.
In this article, you'll learn how to track and measure four important social media metrics to help you improve your social media marketing.
#1: Determine the Best Times to Post Updates on Twitter and Facebook
Twitter
Because Twitter moves at such a rapid pace, tweets get buried quickly. Knowing when your followers are online plays a crucial part in your tweet's visibility and success.
Luckily there are some great tools to analyze the activity of your followers.
Tweriod looks at the recent tweets of your followers and provides you with analytics and data that show when your followers are the most active.
Once you connect your Twitter account to Tweriod, it runs an analysis and summarizes the best hours of each day for you to reach your followers with your tweets. The report is delivered to you by email or a DM when the results are ready.