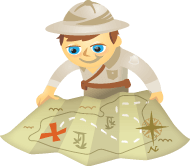 Have you noticed the importance of images in social media?
Do you use images to tell stories about your business?
Keep reading to discover four creative uses of images with social media.
Why Images Now?
The way we use images is changing.
Instead of taking photographs at important life events and sharing them with a few family and friends, we're uploading them to our social media pages, sharing them with companies and broadcasting them to the world.
"Pictures or it didn't happen" is our new mantra. And these days, images aren't just something you look at—they're the center of most of our engagements online as people share, comment and engage with image creators.
"We've now entered a phase in which visual communication is supplanting the written word," says Bob Lisbonne, CEO of Luminate and former SVP of Netscape in the 1990s. "What some are now calling the dawn of the Imagesphere."
On Facebook, up to 250 million photographs are uploaded every day, and those photographs are prominently featured on the social media platform.
A post that includes an album or picture receives 120-180% more engagement from fans than a text-based post.