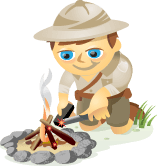 Want some cool apps that you can use on your smartphone to improve your marketing?
Mobile apps can help you manage your social media activities with your busy schedule and help you maintain your reputation.
Here are 6 free smartphone apps to keep your business active on social media.
#1: Google Currents
Do you struggle to find cool ideas for posting to your social networks?  Fortunately, there's an easy way for you to find content through Google Currents.
The Google Currents app allows you to create a one-stop shop for various sources of information.  You add these sources much like an updated RSS feed.