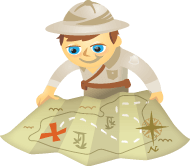 Are you looking for a way to fit in on Pinterest?
Do you know how to use Pinterest as a marketing tool?
Pinterest is built around beautiful pictures and that can be a problem for some companies.
If you don't think your business is Pinterest-friendly, it's time to reconsider.
In this article you'll discover three Pinterest marketing tactics you can use to entice followers to click through, no matter what your industry or niche.
#1: Highlight Your Strengths
The challenge on Pinterest is to be as irresistible as possible. No matter what your end game is, you're not going to get there without original content that stands out in a pinner's feed. How do you do that if your company or product doesn't really fit with the colorful, visual nature of Pinterest?
Realizing that pictures are not their strength, The Wall Street Journal has gained a Pinterest following by posting noteworthy quotes from their articles.