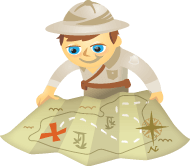 Are you wondering how your business could use Pinterest?
To say there's been a lot of buzz about Pinterest in recent months would be putting it mildly!
Pinterest's ease of use for visually bookmarking, organizing and sharing things you love has made it a hit among individuals and businesses alike.
What follows are 26 tips, an A-Z guide for creating a business presence on Pinterest.
#1: Add a Pinterest "Follow" and/or "Pin It" Button
One important way to let your clients and prospects know about your presence on Pinterest is to add a Pinterest button. Pinterest has several choices available on their goodies page. Find the one that works for you. When you add a Pin It button, you can encourage your customers and readers to pin your products onto Pinterest.