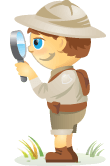 Are you wondering what the changing social trends are for consumers?
If so, look no further.
In Nielsen and McKinsey's Social Media Report, consumers were surveyed to discover how they use social networks.
Here are seven key findings from that report.
#1: More Time Invested in Mobile
The survey found that consumers are increasingly looking to their smartphones and tablets to access social media.
While the PC is still the most widely used device when it comes to social media consumption, the study found that time spent on mobile apps and mobile websites accounted for a 63% increase (compared to 2011) in total time spent.
Additionally, 43% of users said they use smartphones to access social media, while 16% connect using a tablet.