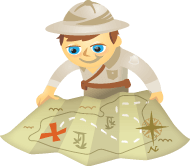 Are you wondering how Pinterest could help your business?
Pinterest is one of the hottest social media sites at the moment. Pinterest was the fastest stand alone site ever to reach 10 million monthly unique visitors.
One study shows how Pinterest has been bringing in more traffic to websites than LinkedIn, Google+ and YouTube put together.
Brands are benefiting with Pinterest in generating traffic and sales.
So if you'd like to attract a lot of traffic to your website using Pinterest, check out these 6 tips.
#1: Use Original Pictures to Drive Traffic
If you visit the Popular Section of Pinterest, you'll see that most of the popular pictures and images in this section are original and unique. The popular images are "repinned," "liked" and commented on the most number of times.