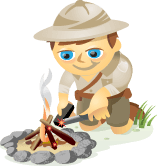 Is your business effectively using Instagram?
Are you making the most of your community on Instagram?
Forty percent of top brands have adopted Instagram as part of their marketing strategy.
Instagram helps give your business a personal touch through visuals, so it's important to bolster your community as best you can for continued growth and interaction from your audience.
Here are three tips on how to strengthen your community management efforts on Instagram.
#1: Use Tools to Manage Your Account
Instagram's interface, whether on mobile or web, doesn't offer the best options for brands to effectively engage with their community. Before the launch of the web version of Instagram, many tools were developed to fill in the gaps left by the network.
There's Statigram, Instagrid, Webstagram, Nitrogram, Simply Measured and many other helpful tools for making the most of your Instagram community.
Let's focus on just two, Statigram for community and giveaway management, and Nitrogram for measurement.