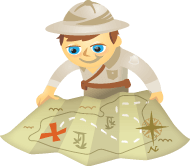 Want to build your personal brand? There are few tools as powerful as social media for quickly building a positive personal brand. Whether you're focusing on a global audience or a local one, social media can help you get visibility and help you forge connections.
In this article, I'll share some tips to help you leverage social media to gain more exposure.
#1: Reap What You Sow
What are you aiming for? What is your goal?
If you want to get yourself known, social media is a great way to build visibility and a platform. Getting known might be your goal or it might be a means to an end. Again, social media can help you build connections that pay off in terms of opportunities and offers.