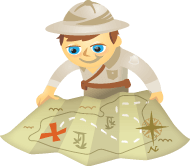 Why do some blogs thrive and others fail? Do you blog? Have you been working hard to build a loyal following for your business, but it's just not happening for you?
The good news is you're not alone. Most blogs don't get the traffic or the attention they desire.
What follows are the top mistakes made by bloggers (and how to fix them).
Mistake #1: It's all about you
When I first started blogging, this discovery surprised me: Nobody gives a hoot about my products, my services or me. This also means most people don't care about you, your company or your products, either.