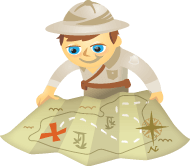 Looking to build your customer base and keep people coming back for more?
The answer is to reward your customers.Want to know how? Keep reading…
Why Rewards?
It's easy to see that social media and other digital technologies are making a huge difference in the way brands interact with customers and how customers perceive a brand's image.
With so many new business owners testing the waters of social media, it can be easy to forget what our focus should be. Just like any business situation, the customer should be our first priority, always.
Social media is another great way to drive traffic to your website, people into your stores, and ultimately, money into your bank account. One of the best ways to grow your customer base is to reward them.