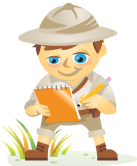 When Content Science sends their quarterly e-newsletter to their mailing list, their email open rate is 50%.
"Well, of course," I hear you saying. "Sending an e-newsletter to subscribers who have opted in would most certainly have a fairly high open rate."
Exactly.
So why would you want to broadcast your online message to millions of people who couldn't care less, and be happy with a 3% click-through rate? Why are you still marketing online the same way you marketed offline?