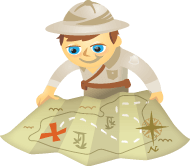 Do you want to be a sought-after resource in your niche?
Do you need tips on how to become a Twitter influencer?
To be a leader on Twitter, it's important to understand the dynamics of Twitter conversations and the role of influencers.
In this article I'll show you the two most important types of Twitter influencers and how you can become one.
Study and Map Twitter Conversations
Recently, the Pew Research Group and the Social Media Research Foundation conducted an in-depth study of Twitter conversations. They examined thousands of conversations, including the roles of hashtags, retweets, follows, mentions and specific words. They then created maps of multiple subjects to discern patterns and structures.