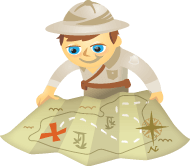 Have you ever dreamed of becoming one of the top blogs in your space?
Are you wondering how some bloggers find success and why others struggle to survive?
If so, keep reading as I reveal five tips and techniques that have helped large blogs (such as Social Media Examiner) grow into influential and widely read publications.
First, Rethink What it Means to Blog
When I started Social Media Examiner back in October 2009, I made the decision not to call our site a blog.
Instead, I opted for the phrase online magazine.