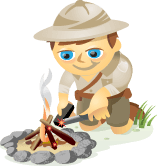 Does your business leverage the power of Facebook apps?
Wondering how other businesses are using apps to better serve their customers?
Keep reading to discover many ways businesses are using Facebook apps.
Why Facebook Apps?
There are many reasons why you may want to consider using Facebook apps. They can provide communication between your customers and your customer service team, allow people to sign up for and receive your newsletter or provide your customers with special rewards.
Each of these uses can help you create a deeper relationship with your customers and foster brand loyalty. If you use a fangate to conceal the content on strategic app tabs from non-fans, you can also increase the number of likes your Page is getting.
In this article, we'll explore 6 ways to successfully use Facebook apps to build the reputation of your brand and reach your customer service goals.
#1: Keep Customers in the Know
Email remains a very popular marketing tool and sending interested users email updates in the form of a newsletter keeps them in the know about your business.
Use a newsletter signup app to collect email addresses so you have an additional way to communicate with your customers when they leave Facebook. You can even ask people to like your Page to reveal the newsletter signup form.
Publish status updates to tease newsletter content and then direct your fans to the app where they can sign up to receive the full newsletter.
The popular yoga and music festival, Wanderlust, has events all over North America, all year long. Wanderlust uses a newsletter signup app as a way to stay connected with fans and tell them what's happening where and when.