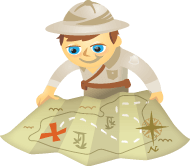 Do you want to try a Hangout On Air, but aren't sure where to start?
Are you looking for a new way to connect with your community?
Google Hangouts On Air are an effective way to showcase your expertise.
In this article you'll discover what Google Hangouts On Air are, how to create and host them and what happens when they're over.
The Basics of Google Hangouts On Air
Google Hangouts On Air are a simultaneous public broadcast on Google+ and your YouTube channel. During the Hangout, YouTube live-streams and records the session, then hosts it on your YouTube channel automatically. All that and it's free too.