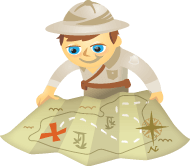 Is your website meeting the needs of on-the-go mobile users?
When you're developing your first mobile site, you may be at a loss. That's understandable—a mobile website is an entirely different animal from a traditional website.
Given that, it's important to keep some best practices in mind as you develop your mobile presence.
What follows are 9 best practices you can use to ensure your mobile site is as good as it can be.
About Mobile Users
But before we dive into the 9 best practices, it's important to keep one thing in mind—the person viewing your site is mobile.
That may seem like a no-brainer, but you'd be surprised by how many people forget that simple truth.