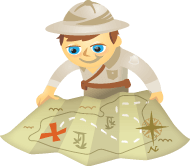 Are you looking for new ways to add mobile to your marketing mix?
Do you want to deliver time-sensitive offers to your customers?
Wondering how SnapChat could help your business?
It's no secret that mobile is the new black: most people rely on their phone or tablet to access information.
In this article, you'll discover 5 ways brands can add Snapchat to their mobile marketing strategy.
How Snapchat Works
If your target audience is age 13-25, Snapchat may be the answer you're looking for.
It's a popular mobile app—it logs over 400 million messages every day—that shares photos and videos that disappear after a short time.
First, let me explain how Snapchat works. A Snapchat picture, or snap, is only available for a set time limit, from 1 to 10 seconds, once the user opens it. However, the new Snapchat Stories feature allows items to be available for up to 24 hours.
The limited lifespan makes Snapchat the perfect tool to deliver a call to action that creates excitement and a sense of urgency.