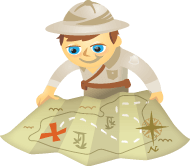 Would you like to make lasting contacts from your social media friends and fans?
According to a Harvard Business Review blog post entitled, "Three New Networks for the Digital Age," just having an online network isn't enough.
In this post, I'll explore steps you can take to turn those online contacts to offline business relationships. I'll use the thought of heading to a large event or conference as the stake in the ground so you have a "when and where" for connecting with some of your online contacts.
Here are 8 things you can do to turn social media contacts into offline business relationships.
#1: Get Clear on Your Goals
Start out by using a tool like Evernote to capture some of your thoughts.
Capture what you're currently working on, your current goals, the people you think can help you move your goals forward and what you're currently looking to learn. (You may or may not actually have a name for your direction, but a title will do—think of creating a networking persona.)