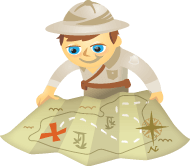 Do you want more people to see your YouTube videos?
Have you optimized your videos for search?
If people can't find you, they can't watch your videos or subscribe to your channel, which hurts your search ranking.
In this article you'll find four ways to tweak your videos to rank higher in YouTube search.
Why is YouTube Search Important?
Every minute, 100 hours of videos are uploaded to YouTube. The site gets up to 30 million visitors each day. If you want to find a video, the first place you go is probably YouTube.
Besides being the largest video resource online, YouTube is also the second-largest search engine (right behind its parent company, Google).
If you can tap into the traffic and publicity YouTube offers, you could instantly shoot to the top of YouTube's search engine results. But I won't lie: competition is fierce. There are millions of high-quality, impeccably edited videos with carefully crafted SEO.