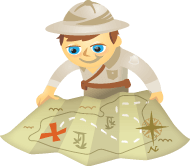 Are you wondering how you'll achieve your social media goals this year?
Do you feel as if you're spending lots of time on social media with little direction and few results?
In this article, I'll show you how to streamline your social media marketing to achieve your goals.
#1: Set Realistic Goals for Your Business
When you set goals for your business, set one realistic goal that's measurable.
For example, if you own a local flower shop and you sell 20-25 flower arrangements per day, try starting off with a goal of selling 30 per day.
Adding an extra 5-10 sales a day is certainly more realistic than adding 30.