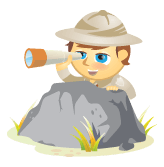 If you've ever been to a McDonald's, chances are you've seen the donation boxes that support Ronald McDonald House Charities (RMHC) on the counter or at the drive-through window.
How can a little spare change possibly help fund the organization's global network of hundreds of houses, family rooms and care mobiles (mobile care centers)?
A little change adds up – to nearly $25 million in donations last year with the help of social media. Donation boxes are the single largest ongoing fundraiser for RMHC, helping the charity serve 4.5 million children and families every year.