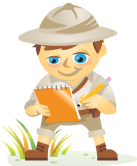 Since Facebook announced the Open Graph API, the response has ranged from "Facebook is the future of the web" to "Facebook is ending privacy as we know it."
Matt Schlict definitely believes the former.
Matt saw Open Graph API as an opportunity to connect people across the web—not just through personal connections, but also by their connection to the most popular content.  Instead of waiting for users to browse one of the 100,000 sites using a form of the Open Graph, he decided to post all of the most popular content in one place, on ItsTrending.com.
What Is ItsTrending.com?
Itstrending.com is a site that collects all of the content shared via Open Graph, and ranks it by the number of times it has been shared.  This guarantees that everything on the site is the most popular content of its kind.