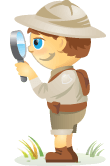 Are your social media marketing campaigns bringing in sales? If you answered "yes," you're part of a very small group found a recent study.
Although many marketers see the value and potential of social media marketing, most have yet to translate that into sales, found a new report by R2integrated.
According to the study, 65% of respondents said that their companies have not increased revenue or profited using social media. When asked about their biggest impediment, 36% of the respondents cited "not enough data or analytics to develop ROI" as their #1 challenge.
A few key finding determined what set the winners apart from the losers.