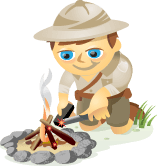 Have you heard of augmented reality? This new technology will have a profound impact on businesses. Keep reading to learn why…
Like social media, augmented reality is a fairly new technology that is still being developed into tools that add some use or productivity to our lives.
At this early stage, it is often found in games, but businesses are slowly adopting the technology and experimenting with it.
If you're unaware of augmented reality, the basic definition is that it adds something to, improves, or heightens, reality.
Here's a cool augmented reality video to check out.
Have a look at these five examples of what has been achieved using this technology so far and get excited about what this could lead to in the future!