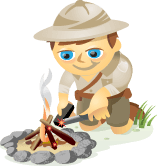 Ask any marketer about trends for 2011 and you'll undoubtedly hear the phrase "location-based services." However, among Foursquare, Facebook Places, SCVNGR, Gowalla and many others, marketers have a lot to choose from.
In this article we'll cover the two major players—Foursquare and Facebook Places—and see how they stack up.
What are location-based services?
Location-based services allow users to connect with others based on their current locations. In most cases, people use their smartphones (iPhone, Android, Blackberry) to "check in" to businesses like restaurants, bars and stores they visit. These locations are then broadcasted to their online friends.