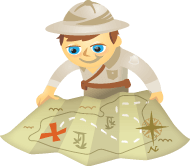 Are you wondering how the new LinkedIn design will impact your personal profile and business page?
While you might be waiting for the launch of the new LinkedIn profile design, there are still many other areas of LinkedIn you can improve upon today.
In this article, you'll learn more about both new and existing LinkedIn features for your professional profile and company page that can help you get more results from your LinkedIn experience.
LinkedIn Professional Profiles
Want to make sure your LinkedIn profile is prepared for the new profile design (which you can preview by enlarging this image)? Here are some things you should make sure to include in it now.
The Basics