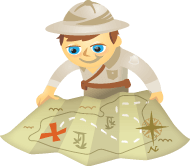 Are you wondering how to get the most from LinkedIn? Over the last few months, the LinkedIn network has made upgrades and undergone changes.
If you already have a profile created on LinkedIn, it's a great time to revisit and refresh your presence!
Or if you're just wondering how to get started, these 5 simple steps will help you make the most of your time and effort!
Why LinkedIn?
LinkedIn is the largest professional social network online today, with over 100 million professional users. The average household income of LinkedIn users is over $88,000 per year, which outpaces the average income for the readership of the Wall Street Journal, Forbes and Business Week!