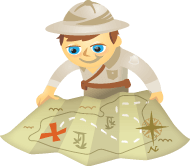 If I were going steady with any social networking site, I would have to call LinkedIn my main squeeze.
Ahhh yes, the lovely LinkedIn.
She warms me up with friendly introductions to powerful decision makers. She brings a smile to my face from the absurd amount of targeted traffic to my websites. And she goes WAY over the top with the number of direct sales referrals she gives me.
It's a digital romance we have, and I'll profess my love for her 'til the end of time. 😉
In all seriousness, I'm a big fan of LinkedIn because of the direct business I receive from it. And although I've written books about LinkedIn, given webinars and presentations on the topic and written articles like Top 5 Ways to Market Your Business With LinkedIn, I've never done a dedicated article about the advanced applications… until now.