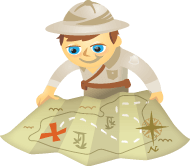 Are you looking to grow your LinkedIn network?
Do you want to improve your chances of connecting with people via LinkedIn?
In this article, you'll find six tips for successful networking that will help you avoid common mistakes that can damage your professional reputation on LinkedIn.
What's Different About LinkedIn?
Unlike social media platforms such as Facebook and Twitter that accommodate both personal and business uses, LinkedIn is a social network built strictly for business.
From the appearance of your profile to how you manage relationships, the people on LinkedIn expect professional behavior from you at all times.
As you build your network, it's important to know what's appropriate and what's considered bad LinkedIn etiquette.
Here are six tips:
#1: Show People Your Business Side
You only get one chance to make a first impression, so make it count. If you use an unprofessional image for your profile photo, you may never get a chance to recover your reputation.
Your LinkedIn profile image should show you in your best professional light. Use a head shot with a clean background, a smile and a clear view of your eyes. Think of how you would present yourself at an event thronging with prospects and use an image that does the same, online.