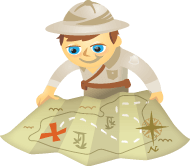 Does your business have a LinkedIn company page?
Have you noticed how other businesses are using LinkedIn lately?
A number of larger brands are creatively using their LinkedIn company pages, and some of them are doing some cool things.
Here are five brands using their LinkedIn company pages creatively.
Check out what they are doing to learn how you can tell your story, generate leads and engage your communities through your LinkedIn page.
#1: LinkedIn—Develop a Campaign
Let's start with LinkedIn. Why not learn from the source itself? LinkedIn's own company page offers some insight into what works for effectively engaging your target audience.