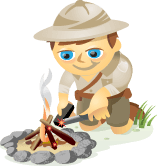 Are you spending more time each day using your smartphone or iPad? Looking for some cool apps to simplify your work and life?
According to a recent study by Flurry, consumers spent 81 minutes per day using mobile apps, compared to 74 minutes of web surfing. Here's where it gets even more interesting. Social networking is one of two categories that dominate mobile app usage with 32% and games are responsible for 47%.
In Search of Apps
As a social media marketer, you'll likely want to find apps that will help you keep up with social networking and stay productive while on the go. Many of us hear about apps from friends and colleagues, from articles we read, from searching around on Apple's App Store to see what's new and through dedicated search engines such as Chomp.