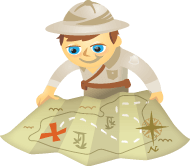 Does your company sell to other businesses?
Are you looking for leads?
There's likely more new business for you on LinkedIn than you're currently tapping.
LinkedIn now boasts 161 million members, including executives from each of the Fortune 500.
No matter the job title of your best prospects, you can find them on LinkedIn.
Here are seven ways to find new customers with LinkedIn.
#1: Develop Connections and Meet Second-Degree Connections
The people you've connected to directly on LinkedIn are called first-degree connections. This is your immediate network.
You can increase your network by clicking on "Add Connections" and giving LinkedIn temporary access to your email or by pasting your emails in.