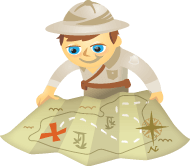 So you've set up your social media empire using Twitter, Facebook, LinkedIn, and you're blogging too.
But how do you make it all work together? You want to reach potential clients and establish your authority online, but what's your plan?
This article delivers five foolproof steps to get you on your way to finding, formulating and distributing content that will get you noticed. Content could include your own blog posts or links to others people's work posted on your social networks.
#1: Find Your Target Audience.
The first step in social media planning is largely the first step in identifying your brand—determine who you are and who your customers are.
What unique aspect of your product or service attracts your target population?