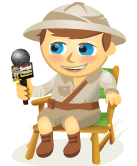 In this video I interview LaSandra Brill, the social media marketing manager at Cisco.  She talks about the cool stuff Cisco is doing with social media.
LaSandra shares insights into how Cisco reached 90 times the audience at one-sixth the cost on a recent social media product launch and how they did this compared to a similar launch using traditional marketing. You'll also hear about other ways Cisco uses social media to deepen relationships and connect with customers.
Be sure to check out the takeaways below after you watch the video.