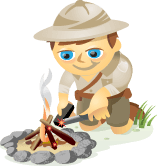 Is your business using Instagram?
Do you need better tools?
Many marketers haven't adopted Instagram because it doesn't offer the right tools to help them use it effectively.
Here are five Instagram tools to help you become more efficient with Instagram.
Why Instagram?
Instagram is a rapidly growing photo and video sharing platform with more than 150 million users and 16 billion photos shared. Over 55 million photos are shared on Instagram to a very engaged community every single day.
Google Trends show you the volume of searches for "Instagram." As you can see, over the last year it has grown significantly and is set to grow further in 2014.