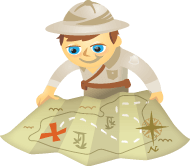 Are you looking for creative ways to spread the word about your Facebook page?
Your fan page can be one of your organization's richest sources of interaction, R&D and lead generation. The only problem is making people aware of it!
Unless you have a built-in audience like big-boy brands Coke or Red Bull, you'll need to educate your fan base on how to find you on Facebook.
To help you out, I've put together a list of 20 different ways to promote your Facebook page. Even if you only put a few of these ideas into action, you'll start seeing growth and increased conversation on your fan page.
Are you ready? Let's get started.