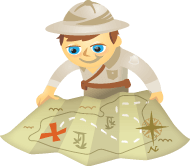 Do you find it hard to have meaningful engagements with prospects on Twitter?
Do you want a better way to find quality prospects and increase your Twitter ROI?
Twitter is a key social media tool that gives you access to a targeted audience and relevant conversations, but first you have to cut through the noise.
In this article I'll detail three steps for using Twitter hashtags to their full potential. Get ready to find useful conversations that connect you with ideal prospects.
Why Use Hashtags as a Prospecting Tool?
Twitter is noisy.
As a social media marketer, you know how important it is to have conversations with the right audience. But finding the right people and starting those meaningful conversations on Twitter is, shall we say, challenging when there are around 9,100 tweets sent every second.
So how can you find what you're looking for without monitoring Twitter 24/7? Make the most of hashtags. They help you filter Twitter conversations so you can find discussions you can add to.